Brief: High styrene rubber is a special variety of styrene butadiene rubber. It is a non-polar polymer prepared from the co-polymerization of styrene and butadiene latex. Chemical structure:
—(CH2—CH=CH—CH2)m—(CHC6H5—CH2)n—
It is white granule. Heat distortion temperature: 70-90℃, white solid. It is used as filling reinforcing agent to improve the hardness, aging-resistance, wear-resistance, tear strength and tensile strength of rubbers. Has excellent thermoplasticity and electrical insulating property.
Application
: High styrene rubber is suitable for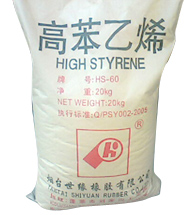 the manufacture of high-hardness and low-density products. 1. Shoe-making: hard soles, heel, rigid foam sole, imitation leather shoes etc.; 2. As floor materials: rubber floor tile; industrial products, like rubber roll, washer, hard rubber tube and other sponge products; 3. Sports industry: balls, rollerskate; 4. Electrical insulating material; 5. High-grade bike cover tyre; various printing pastern roller; slab rubber; 6. ABS, AS plastic;
In recent years,rubber field are paying more attention to reinforcement of high styrene rubber,especially in the automobile industry,such as applied in the tyre.therefore,potential market of HSR is very huge.

Performance: Accredited by experts who organized by the Shandong province Committee, our product has supplied a gap in China. Its major technical indicators have reached world leading level, and can be the complete substitute of imported products, such as Japan's NIPOL HS850, HS860&HS870, JSR0060 and KER1904 and HS260 etc.
| | | |
| --- | --- | --- |
| Item | Values | Testing basis |
| Styrene content (%) | 65±5 | GB/T8658-94 |
| Volatiles(%) | ≤5.0 | GB/T6737-97 |
| Organic acid content (%) | 3.5-5.5 | GB/T8657-92 |
| Organic soap content (%) | ≤0.5 | GB/T8657-92 |
| Mooney viscosity ,ML(1+4) | 45-60 | GB/T1232-92 |
| Tensile-strength (MPa) | ≥10.0 | GB/T528-98 |
| Schopper hardness (A) | ≥93 | GB/T531-99 |
Packing & Storage:
In high-strength composite bag lined with PE-coated woven bag/composite kraft paper bag, net wt. 20kg. Protect against fire, water and sunlight. Stored in cool and draughty place. Pile height: 20 bags max. Shelf life: 8 months.